Dreaming, as a path towards progress and liberation
Dreaming, as a path towards progress and liberation
Narrative Change Academy participant Aminata Bouaré has written a riveting text for the #NarrativeChangeAcademyJournal on utopias and the power of dreaming, on Nahel Merzouk, Omar Sy and on how we have to go beyond discussing whether or not racism exists in our societies.
Would you sell your soul for the world of your dreams? Could you even imagine what this world or this life could look like? Or do you already see your shortcomings, apprehend the fallout? What if you did dare to fantasize? What if reverie, humility and pragmatism were not contradictory? Does it still feel overwhelming, confusing, perhaps dangerous? After all, the Devil is known for their mastery of trickery. What if someone showed you the way? Would you take this leap of faith to think and craft your very own happy ending?
These reflections and interrogations have arisen in my mind since the second workshop of the Narrative Change Academy, that happened in Berlin at the end of June. If you're intrigued, troubled, dubious, or even worried, I can definitely relate. I've had all sorts of thoughts and feelings, and yes, thinking about the future is scary. Dreaming? Even scarier. Yet, as social fractures grow, we cannot stay idle. We are in this together, and we need a better tomorrow. So, how to move forward?
Dreamers: naïve or radical?
I like to call myself a dreamer. Why? Well, our reality used to seem very dull to me. No superpowers, no time travel, no aliens. Jokes aside, I've always felt that I had to accept this world, even though reluctantly. In my youth, I could hear commonplaces like "this is how things work" or "this is the only way". In our rigid system of beliefs, utopias are underrated. They're often portrayed as dystopias in disguise, only leaving us distraught and disheartened, with an urge to stop yearning for more. Hence, better stick to the current system since this is the best we've got. Consequently, dreamers are often depicted in a poor light. At best, they could be thought naïve and disconnected from reality. A tad passionate? Portray them as cult leaders or tyrants in the making to definitely discredit them. Regardless, what if we let go of fear-based prejudices and gave it an actual shot, and try to imagine how things could be like?
That was the aim of our second in-person workshop: identifying our values and priorities, thinking about the narratives we wished to leave behind, detaching ourselves from those towards a Dream of Togetherness, Inclusion, Fairness, and Freedom for our society.
Days later, the case of Nahel, a French teenager of Arab descent, reminds us why articulating the changes and the world we long for matters now more than ever.
The story of Nahel Merzouk: how we never talk about the real issue
Nahel, 17, was an only child raised by his mother in Nanterre, a working-class suburb in the Greater Paris area. He was known to love mechanics, cars, and motorbikes. He played in a local rugby team and studied to become an electrician. 27 June 2023, early in the morning, Nahel embraces his mum, tells her he loves her, before setting off for school. Around 8:30 am, Nahel ends up fatally shot by the police, as he attempted to drive away during a traffic stop.
After Michel Zecler, Adama Traoré, Theo Luhaka, Zyed Benna, Bouna Traoré, Malik Oussekine, a new name is added to the long list of police violence victims in France. This time, the perpetrator is charged with voluntary manslaughter and remanded in custody.
The brutal killing has ignited weeks of protests throughout the country. In the streets, thousands of demonstrators grieve the boy and demand justice. Abroad, international newspapers wonder what the issue is with France and its numerous racist police incidents. Even the Office of UN High Commissioner for Human Rights states that it is the "moment for [France] to seriously address the deep issues of racism and discrimination in law enforcement".
Zustimmung zur Verwendung von Cookies
Um dieses Video anschauen zu können, musst du zuerst die Verwendung von Cookies auf unserer Website zulassen. Weitere Informationen findest du in unserer Datenschutzerklärung. Alternativ kannst du dir das Video auch im neuen Fenster anschauen.
Online, tribute tweets and posts flood social media. Many celebrities share messages of condolences. Among them, Killian Mbappé, football superstar and captain of the French team, tweets: "My France is aching. An unacceptable situation. My thoughts go out to the family and loved ones of Nahel, this little angel gone much too soon." Weirdly, Mbappé faces some criticism for sharing his sympathy, along with other famous figures, such as Omar Sy, whom I will talk about later.
What about the government and the media? Even though the president Macron strongly condemned the murder initially, the government then focussed quickly on the chaos generated by the protests. Instead of questioning the underlying causes of the shooting by a representative of the State, such as changes in police gun laws which enabled dozens of killings following traffic stops, politicians and media channels preferred limiting discussions to the state of social unrest, emphasizing on property damage and the overall violence. In the public debate, the blame moved from the police to the young demonstrators and their "irresponsible" parents.
For some sad reason, the topics which actually matter are often omitted and ignored for irrelevant controversies that pollute the media. Another example of political distraction occurred early this year, centering on Omar Sy, famous French actor of Mauritanian and Senegalese descent.
Omar Sy: when fame cannot even save you
Early January 2023, Omar Sy sparked a controversy while promoting the film Father & Soldier (Tirailleurs) that relates how Senegalese riflemen fought for France in the First World War. In a long interview for the daily newspaper Le Parisien, he shared the following statement: "[The war in] Ukraine wasn't a crazy revelation for me. As I have family elsewhere, in Africa, I know that there have always been children at war, broken families. I'm surprised that people are so affected. Does that mean that when it's in Africa, you're less affected?"
Zustimmung zur Verwendung von Cookies
Um dieses Video anschauen zu können, musst du zuerst die Verwendung von Cookies auf unserer Website zulassen. Weitere Informationen findest du in unserer Datenschutzerklärung. Alternativ kannst du dir das Video auch im neuen Fenster anschauen.
Subsequently, several politicians and media channels, from the center to the far right attacked him. His reply to the controversy was: "The problem is not really what I say, it's about what I am." Spot on.
We could play the role of the "good immigrant", believe in meritocracy, be successful, stay away from any form of self-segregation, or "communitarianism", and solely swear by the fundamentals of democracy that allegedly guarantee our acceptance in society. Such behaviours and discourses are supposedly praised, heard, and accepted by many.
Unfortunately, this is and will probably never be enough. The stories of Omar, Killian, Nahel and many others demonstrate this sad reality: to quote Jean Beaman, Associate Professor of Sociology at University of California, Santa Barbara, the citizenship of French nationals of Black and Arab descent can, at all times, be "suspected" and investigated, and this, by any one.
What can we learn from this? Firstly, this everyday "business" will be maintained. The issues at stake will not be given the space they deserve to be addressed and fundamentally tackled. Consequently, there will unfortunately be other victims like Nahel. Secondly, we will always face criticism when expressing challenging opinions and/or empathy for minoritized victims of past or current events. What does that mean? No one talks about the elephant in the room, and even when we do everything to "deserve this right", we're strongly discouraged to do so. Discussing whether or not racism exists in our societies is actually not the main point, we need to go beyond that, and express what we need to set a new paradigm of social and cultural coexistence.
Therefore, let's be radically honest, take the space we're due, ask the annoying questions, make our voices heard, as there is nothing left to lose. Let's ask ourselves once again: in which world do we aspire to live in?
The world that I dream of
So let's imagine that, today, as I write this blog post at the terrace of a café, the Devil sits next to me and asks: "Which world would you dream of, if you could sell your soul right now?". What could I possibly reply? As of now, I think I would formulate it as follows.
For myself, I dream of a world in which I can be whole, in which I can be free. Free to speak however I want, free to take space, free to dream, to feel, to be complex, multilayered, to be humanized.
I dream that I can wear anything I want and everyone minds their business, whether it be a crop top, shorts and high heels, a headscarf with Dr. Martens, a djellaba with Birkenstock, or a burkini at the beach, if I choose to. I dream of a world where any hairdresser can handle my kinky hair and I have no kind of apprehension.
I dream of a world where listening to metal besides jazz, hip hop, house music and being Black is normal. I dream of metal bands with female Black vocalists and non-binary hijabi musicians.
I fancy a world full of communities of Black, FLINTA siblings revolving on hobbies like climbing, who owe nothing to no one. I dream of more circles and initiatives like Roots, BIWOC* Rising, Brave Spaces 2.0, Black Canary 030, and Oyoun.
I long for a society that empowers me, where I can be bold, loud, where I don't have to second guess myself to fit in. A society in which I can be imperfect, make mistakes, get angry, shout and break things. Like Devi from Never Have I Ever, I want to be allowed to screw up, redeem myself, progress, heal and thrive.
Zustimmung zur Verwendung von Cookies
Um dieses Video anschauen zu können, musst du zuerst die Verwendung von Cookies auf unserer Website zulassen. Weitere Informationen findest du in unserer Datenschutzerklärung. Alternativ kannst du dir das Video auch im neuen Fenster anschauen.
For my family, I dream of my cousins wearing their headscarves at school and university, being their authentic selves. I dream of my aunt wearing traditional West-African attire for a job interview and being warmly welcomed. Of a world where Black and Arab children play in the streets and feel safe everywhere.
I dream of my youngest cousin being able to become an artist, if she wishes for it. I dream of her mum encouraging her, not influenced by social and racial determinism. I wish for her to learn ballet, martial arts, swimming or ice skating, if she wants it. For her, I dream of a childhood with unlimited possibilities and opportunities, so she can grow to become the adult that she aspires to be, free from socio-economic circumstances.
I dream of her older brother, a sweet 14-year-old boy, crossing the path of the police in the streets, and being smiled at. I dream of a world where there are no more young victims of police violence like Nahel, Hedi, Theo, Zyed and Bouna. I dream of a world where everyone feels appreciated, instead of feeling threatened or villainized.
I dream of my family and me going on holiday together, staying at a rental home in Provence, and playing board games in the garden. I dream of my mum napping on a chair, children running around, my aunts laughing. I dream of a big barbecue party. I dream of the host and the neighborhood being very welcoming.
For everyone, I dream of a world where we pay attention to each other. A world where we talk, learn and move forward hand in hand. A world where empathy, listening and rhetoric are as important as math and physics. A world where everyone can join the conversation, no matter who they are, how they speak, what they do, where they live, what they wear. A world where we discuss issues that matter, like our collective social wellbeing, instead of choosing the next scapegoat to distract us from working towards our collective happiness. I dream of us, remembering our history to learn, adapt, and create resilient communities.
I dream of a world where we question ourselves constructively, stay sharp, smart, critical to make sure we remain on the path of progress. A dream of a society that can make mistakes, yet atones for them, is open to change, holds itself accountable. A society that strives to do and be better. I dream of a world where we collectively think and act forward.
For us, I dream of community. Of compassion. Of mutual care and aid. Of love. Of freedom. Of equity. I dream of many things, and I hope we can have them all.
Any last words?
What about the Devil? I would definitely thank them for asking the right questions and buy them coffee. Nonetheless, I would keep my soul. Why? I've realized that the more I dream, the more faith I have in myself. Because, sometimes, when I share my thoughts and wishes, I find fellow visionaries who also dream, and our ideals amplify, resonate, become one. The more we dream, the more faith we have in us. And when we really believe in the same dream, we can get closer to it. Dreaming is resisting. Dreaming gives agency. Dreaming gives power. Dreaming sets free. So let's dream forward.
In case you wonder, I haven't always been very positive. But, being human means being able to experience, learn, think, live, fail, rethink, evolve. There is a commonplace that says: "where there is life, there is hope". I want to believe in this one, because: with hope comes change.
If you still need another dose of optimism, check out Reasons of Being Hopeful or The Feminist Utopia Project for more inspiration and insights on the radicality of dreaming. That's all folks, thanks for reading!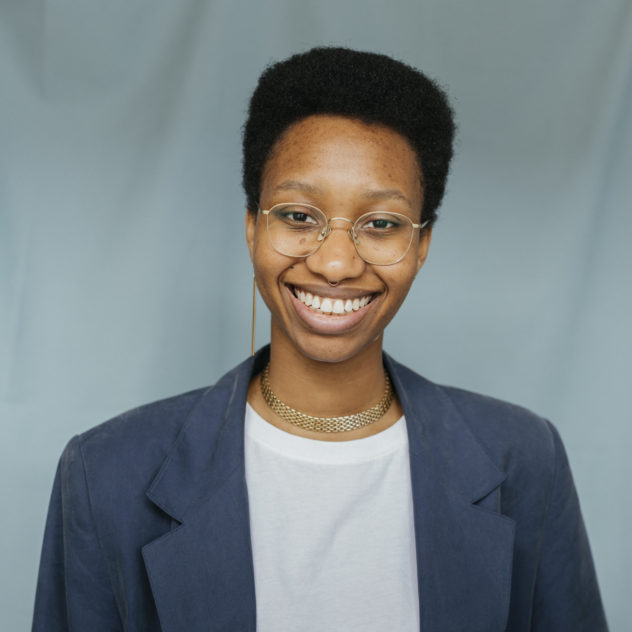 von Aminata Bouaré
am 14. August 2023